sevenlayercharlotte
The weekend is here, and I'm excited to spend some time with my little family.  Todd and I missed our boy while we were in the Dominican (a full trip post coming next week), so it's good to be home.
Next weekend we're heading back out of town to the beach!  It will be a whole lot of family crammed into one house, and we can't wait.  The only issue is the shark attacks that have happened along the NC beaches – one at "our" beach!  YIKES!  Hopefully the sharks will go on holiday for the 4th and we won't need to worry. 😉
I'm linking up with April; Karli; Erika, Andrea, and Narci today.  Happy FRIDAY!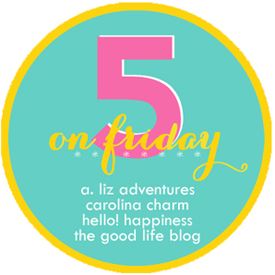 ONE: I found out that My Domaine featured a cheese tray I had made on their site this past week!  Talk about a compliment!  I love following them on Pinterest, because…
View original post 428 more words